Philipp von dem Bussche,
Solutions Architect, Quest Software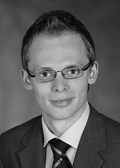 Philipp von dem Bussche is a solutions architect at Quest Software. Philipp joined Quest in 2007, and, in his current role, helps Foglight customers worldwide in the design and rollout of large application performance management solutions, focusing mainly on non-functional requirements. He has a strong development background and previously worked as a deployment and integrations specialist in the area of Java enterprise applications. Philipp earned a bachelor's degree in computer science from the Berufsakademie Heidenheim University of Cooperative Education in Germany.