Wolfgang Strunk, Siemens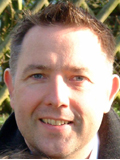 Wolfgang Strunk is software architect at Siemens Enterprise Communications in Munich, Germany. His main area is building a large scale service oriented framework as a base for developing unified communication applications.
Wolfgang has more than 10 years experience developing SW in different markets. He has lead the design and implementation of several large-scale industrial software projects most of them in the area of telecommunication. The common thread is a focus on customer-centric design based on object-oriented concepts. Prior to his development work, he worked as research assistant at University of Hamburg and wrote a number of articles on development tools, frameworks and patterns.
When he is not working, you can find him spending time playing handball or hiking with his wife Roya and daughters Anahita and Taraneh in the german Alps.