About JAOO
Addresses
Scandinavian Center
Margrethepladsen 1
DK-8000 Aarhus C

Musikhuset Aarhus
Thomas Jensens Allé
8000 Aarhus C

ARoS Aarhus Kunstmuseum
Aros Allé 2
8000 Ĺrhus C

JAOO venue
The sessions at JAOO will run at three different neighboring buildings. The central building is the Concert Hall (Musikhuset) where the keynotes and two tracks will take place. To the right of Musikhuset is Scandinavian Congress Center, where three tracks will run during the conference days. At the left side of Musikhuset is the Art Museum ARoS that will house various sessions. In the foyer of Musikhuset you will find the exhibition area.

Opposite ARoS is Ridehuset (an old building used for training horses) where lunch will be served each day, and that will house the Conference Party Monday evening.

JAOO Venue Survey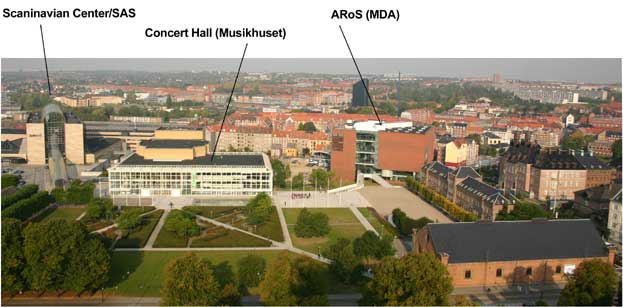 Catering at JAOO
At JAOO you will find catering indoors all day. Find water and coffee at different stations in the conference area.

The lunch is served in Ridehuset from 12-13 each day. Enjoy the food from Chili John.

In the afternoon you will find coffee, tea & cake/fruit in the exhibition area.