Frank Buschmann,
Siemens AG, Corporate Technology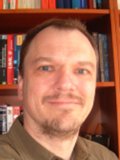 Frank Buschmann is a Principal Engineer at Siemens Corporate Technology in Munich, Germany, where he leads a team of architects doing research in software architecture and design technologies and supporting development organizations in applying these technologies to develop innovative software products.
Frank's research interests include Object Technology, Platform- and Product-Line Architectures, Model-Driven Software Development, and specifically Patterns. In his development work, Frank has lead the design and implementation of several large-scale industrial software projects, including business information, industrial automation, and telecommunication systems. Frank is co-author of four volumes of the "Pattern-Oriented Software Architecture" published by John Wiley & Sons.