See you next year
We thank you all for a great conference and we hope to see you again in 2009, October 4 - 9. Mark the dates!
Were you looking for JAOO 2009?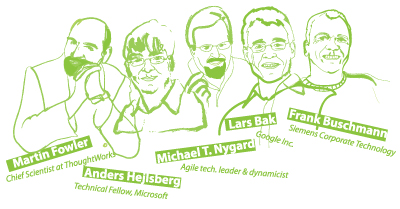 JAOO 2008 Topics
A Developers Guide to the Microsoft Platform // Architecture // Being Agile // Build // Cloud // Component Models // DSL // Data Base // Developer Best Practices // Developer Feedback // Developing Rich Internet Applications (RIAs) // Edutainment // End User Programming // End user experience // Enterprise 2.0 // Failure Comes in Flavors // High Performance, Scalable // Java // Java History and Outlook // New Developments and Technologies in .NET // Programming Languages // Railing // Real men don't do JavaScript // Scaling Agility // Social Network Programming // Sync //
JAOO Speakers
Anders Hejlsberg, Technical Fellow, Microsoft
Martin Fowler, Chief Scientist at ThoughtWorks
Frank Buschmann, Siemens Corporate Technology
Lars Bak, Google Inc.
Michael T. Nygard, Author of "Release It! Design and Deploy Production-Ready Software"