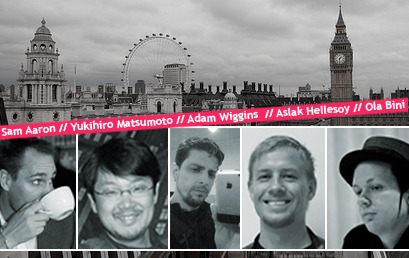 Communicative Programming - making Ruby talk your language
Last year RubyFoo toured in Copenhagen and Oslo and this year it's going to hit the big city of London. The concept is simple - two days worth of thought provoking conference with a driving theme. This year our theme will be Communicative Programming where we will ask questions such as "when, why and how can I make Ruby talk my language?". The conference covers two days, one for presentations from leading experts within the Ruby community and another for collaborative hacking giving you a chance to hang out with Ruby geeks, experts, and curious newcomers in a casual and laid back atmosphere. So come, listen, learn, contribute and share the RubyFoo.
The speakers of RubyFoo 2009:
Yukihiro "Matz" Matsumoto
,The chief designer of the Ruby programming language.
Ola Bini
, recently published the book 'Practical JRuby on Rails at APress'.
Sam Aaron
, Innovation Factory, NL.
Aslak Hellesoy
, Bekk Consulting.
Adam Wiggins
, Heroku.