Ruby Fools
Check out RubyFoo2009 here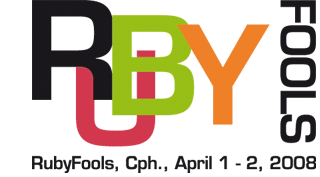 RubyFools Copenhagen will feature 1 tutorial days, March 31, followed by two full conference days, April 1-2, with multiple tracks and talks from over 20 industry experts and thought leaders in the Ruby community.

We have witnessed the rise of Ruby from a grass-roots language to an accepted part of the toolbox of almost all self-respecting developers. This conference has been created to help novices on their way, as well as to inspire experts in the field.
Don't be a fool, be a Ruby Fool.