Alan Cameron Wills, Microsoft Corporation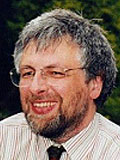 Alan Cameron Wills is a software architect in the Enterprise Frameworks and Tools group in Microsoft. He was previously a consultant in analysis and development methods with Trireme International Ltd, mentoring groups in a wide variety of fields. He co-developed the Catalysis approach to component based development.
Alan is a frequent presenter at conferences, and is a member of the SoSYM editorial board. His PhD was in the application of formal methods to object-oriented programming, and he is a Chartered Engineer with the British Computer Society.