Dion Hinchcliffe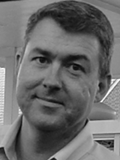 Dion Hinchcliffe is an internationally recognized business strategist and enterprise architect who works hands-on with clients in the Fortune 500, federal government, and Internet startup community.
He helps lead the industry by evolving the thinking around Web 2.0 in the enterprise in various social media at ZDNet's Enterprise Web 2.0 Blog and the Web 2.0 Blog and is extensively published in leading industry periodicals and publications including the Microsoft Architecture Journal, AjaxWorld Magazine, SOA/Web Services Journal, and others. He was founding Editor-in-Chief of the respected Web 2.0 Journal and is current Editor-in-Chief of Social Computing Magazine. His thought leading work has been covered in BusinessWeek, CNET News, Wired Magazine, CIO Magazine, and many other well-known periodicals.
In addition to helping companies deliver effective Web 2.0 and Enterprise 2.0 product solutions with Hinchcliffe & Company, Mr. Hinchcliffe is also is a regular keynote speaker on the topics of Web 2.0, SOA, and Enterprise 2.0 and has presented or keynoted at Web 2.0 Expo, CeBIT, Business Integration Forum, Interop, JavaOne, SOA Web Services Edge, Enterprise 2.0 Conference, Office 2.0, and other major business and software conferences. He has also been instrumental in pioneering ideas around next-generation SOA and Product Development 2.0, with many of those ideas being shared in his Blog on Lightweight Processes, Service-Orientation, Enterprise Architecture, and Software Development.
He is also the founder and owner of the popular Web 2.0 UniversityTM the world's leading education solution around Web 2.0 and next generation SOA as well as The Enterprise 2.0 TV Show. He can be reached at dion@hinchcliffeandco.com or http://twitter.com/dhinchcliffe.