Dion Almaer, Ajaxian.com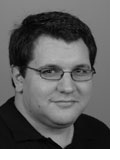 Dion Almaer is the co-founder of Ajaxian.com, the leading source of the Ajax community. For his day job, Dion co-leads a new group at Mozilla focusing on developer tools for the Web, which is something he has been passionate about doing for years, and is excited for the opportunity! Dion has been writing rich web applications from the beginning, and has been a columnist on various topics at ONJava, TheServerSide.com, openxource.com and of course his blog at almaer.com/blog.
He enjoys writing, and speaking at events such as JavaOne, Web 2.0 Expo, Future of Web Apps, Google I/O, JavaPolis, TheServerSide Symposium, and createdThe Ajax Experience . He also participates on the Java Community Process expert groups, and the open source community as a whole.
He enjoys the new Internet media that allows him to connect with the community, and thus created Audible Ajax, recently launched the Open Web Podcast with other industry gurus, and founded the Google Code Review show.
If you want to keep up with him, follow along on Twitter, or FriendFeed.