Alan Lewis, eBay Desktop PM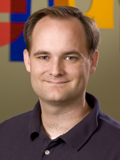 Alan is the product manager for eBay Desktop. Besides creating that product, during his 4 years at eBay Alan has worked on the eBay Mobile for iPhone and eBay Toolbar for Firefox projects. He also has been a technical evangelist for eBay's web services.
Before joining eBay he worked for a number of years as a technical writer and product manager at Blaze Software, where he helped build the market leading enterprise business rules management product. Alan has a BA in philosophy from University of California, Santa Barbara.