Peter Marks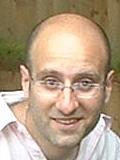 Peter has spent most of his career working with businesses to help them deliver exceptional software products. Focusing on agility, customer responsiveness and creativity, he has led projects that have brought significant business value and achieved high levels of user satisfaction.
Peter was a co-founder and Director of Operations at Connextra, a technology company recognised as pioneering practitioners of eXtreme Programming. He is currently involved with a number of targeted social networking sites and technology start-up businesses.
As a regular speaker on software development practice and an occasional trainer and coach, Peter is passionate about continuous design and clarity in code.