Randy Shoup, eBay, Inc.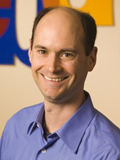 Randy Shoup is a Distinguished Architect in the eBay Marketplace Architecture group. Since 2004, he has been the primary architect for eBay's search infrastructure.
Prior to eBay, Randy was Chief Architect at Tumbleweed Communications, and has also held a variety of software development and architecture roles at Oracle and Informatica. He received a BS in Mathematical and Computational Science, and an AB in Political Science, from Stanford University.