Jeff Sutherland, Patientkeeper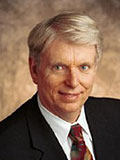 Dr. Sutherland is a Certified ScrumMaster Practitioner and the inventor of the Scrum development process. He has been VP of Engineering and/or CTO for 9 software product companies, developing Scrum in 4 of them and introducing today's standard Scrum methodology to 5 of them.
As CTO of PatientKeeper and IDX, he used Scrum to capture industry leadership for mobile/wireless/web application platforms in healthcare, enabling physicians to enhance revenue, reduce cost, and improve patient care. Recently, he has evolved automated Scrum tools for real-time management reporting, while reducing Scrum project manager overhead to 10 minutes a day and developer administrative overhead to 1 minute a day. This is an order of magnitude more efficient than traditional approaches to project management.
In recent months, Dr. Sutherland has been a Scrum consultant to Microsoft, Yahoo, Ariba, Cadence, Adobe, GE Healthcare, and M3 Media Services bringing PatientKeeper Scrum practices to the broader software industry.