Jeff Sutherland, Scrum Inc.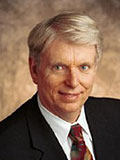 Dr. Sutherland started his career as a fighter pilot in the U.S. Air Force. His last two tours of duty were at Stanford University where he received a M.S. in Statistics and the United States Air Force Academy where he taught Mathematics, Statistics, and Probability. In 1975 he joined the faculty of the University of Colorado Medical School where he received a Ph.D.. As Asst. Prof. of Radiology, Biometrics, and Preventive Medicine he co-founded the Center for Vitamins and Cancer Research under the sponsorship of Nobel Laureate Linus Pauling and for eight years was the Principle Investigator of a multimillion dollar National Cancer Center research grant that ran all IT programs for the Colorado Regional Cancer Center. This included data collection on all cancer patients in Colorado and integration with a national registry, as well as clinical trials, epidemiological studies, and research on supercomputer mathematical models of carcinogenesis.
In 1983 he joined a banking company that serviced 150 banks throughout North America where he was VP of Advanced Systems and General Manager of their ATM business unit. He has been VP of Engineering and CTO of nine software companies. In the first four companies he prototyped Scrum and in the fifth company created Scrum as we know it today. His last four companies have been totally Scrum where teams have consistently demonstrated hyperproductivity. In 2001 he was a Signatory of the Agile Manifesto. His last company, PatientKeeper, performs at 10 times the speed of their outsourcing partner and is the first company to use Scrum to achieve a hyperproductive revenue state, quadrupling their revenue in 2007.
Jeff is currently the Chairman of the Scrum Training Institute, CEO of Scrum, Inc., and Senior Advisor to OpenView Venture Partners where he is Agile Coach for the venture group and their 20 portfolio companies.