Anne Thomas-Manes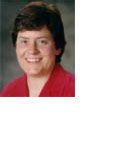 Named one of NetworkWorld's "50 Most Powerful People in Networking," in 2002 and one of Enterprise Systems Journal's "Power 100 IT Leaders," in 2001, Manes is a renowned technologist in the Web services space.
Prior to joining Burton Group, Manes was founder and CEO of Bowlight, a software industry analyst and consulting firm. A 24-year industry veteran, Manes was chief technology officer at Systinet, a Web services infrastructure company. She pioneered Sun's Web services strategy and worked at Patricia Seybold Group as an analyst.
As a respected expert on distributed computing technology, Manes has participated in standards development at W3C, OASIS, JCP, UDDI.org, and WS-I. She is a member of the editorial board of Web Services Journal, a leading industry publication. She is a frequent speaker at trade shows and author of numerous articles and the book, "Web Services: A Manager's Guide," published by Addison Wesley.
You will find Anne Thomas-Manes' blog
here
.