Arvindra Sehmi, Microsoft EMEA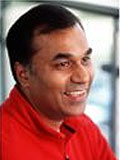 Arvindra is Lead Architect in Microsoft EMEA Developer and Platform Evangelism Group. He focuses on enterprise software-engineering best practice adoption throughout the EMEA developer and architect community and leads Architecture Evangelism in EMEA for the Financial Services Industry where his current interest is in high performance asynchronous computing architectures. The highly regarded EMEA Architects Forum is a multi-country conference that he has led for the past two years. Arvindra conceived, produced and is the executive editor of JOURNAL, the new Microsoft Architects Journal which is a quarterly peer-reviewed publication for software architects.
Prior to joining Microsoft, Arvindra was CTO at Agility, a Boston-based start-up, where he designed knowledge management systems for Private Client Banking and consulted on original technology projects for Financial Institutions in the area. As Principal Consultant at Capco Ltd., he developed new software architectures for securities settlement, transaction flow and event management, and real-time compound data reconciliation. During this time he was lead-architect for an industry-first global B2B utility service for cross-border securities settlements. Before he discovered .NET and a life at Microsoft, Arvindra was a serious Java/J2EE hack and continues to do extensive work on competitive technology strategy at Microsoft.
Arvindra holds a Ph.D. in Bio-medical Engineering and a Masters degree in Business.