Ashish Thusoo, Facebook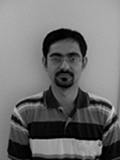 Ashish Thusoo has been with Facebook for the last couple of years and is managing the Facebook data infrastructure team in his most recent role. He started the Hive project at Facebook along with Joydeep and serves at the project lead for Hive at Apache. He is also part of the Hadoop PMC at Apache and has presented Hive at a number of conferences, forums and panels.
Ashish has deep expertise in data processing and parallel processing technologies, infrastructure and applications built on those infrastructures. In the past he has worked at Oracle in areas of Parallel Query Execution as well as XML Databases. At Oracle he built many core data warehousing and query processing features and was recognized as one of the leaders in the Parallel Execution team. These features are regularly used in most Oracle based data warehouses.
When not tinkering with new ideas and technologies, Ashish loves to spend time with his family and listening to music.