Mike Lee, Mayor of Appsterdam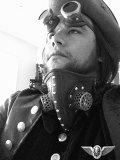 Before he was known as the Mayor of Appsterdam, legendary product engineer and world's toughest programmer Mike Lee (@bmf) worked on apps for Alaska Airlines, Delicious Monster, Tapulous, United Lemur, Apple, and Nextive, producing such hits as Delicious Library, Tap Tap Revenge, Obama '08, and Apple's Mobile Store.
After establishing Appsterdam, the worldwide collective of App Makers with their capital in Amsterdam, Mike moved on to start the New Lemurs, an Amsterdam-based startup with the stated goal of making games educational, and the coolest URL of all time: http://le.mu.rs. (Followed closely by the URL for his blog,http://mur.mu.rs)
Mike's love of lemurs is well known. He has the world's largest collection of plush prosimians, and once bought over 100 plush lemurs in a $12,000 fundraiser for the Madagascar Fauna Group. His life's goal is to save Madagascar.
When he's not working to change the world, he spends quiet time at home in the 17th century canal house in Amsterdam where he lives with his partner Judy and their cats, Wiebel and Wobbel. Mike enjoys racing cars, flying airplanes, and playing guitar, but he's also content sitting beside the canal, sharing a single-cask whisky with friends.
Born in Waukegan, raised in Honolulu, and given to the world in service to all, it is our great pleasure to welcome Mike's big ideas—and big shoulders—back to the Windy City.
Twitter: @bmf