Geva Perry, Software executive and cloud computing blogger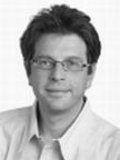 Geva Perry has 15 years of experience as an executive in the enterprise software industry. His blog on cloud computing is widely read and he is a frequent speaker on the topic at corporations and industry events. He is an advisor to a number of companies, small and large, on cloud computing related strategy.


Until recently Geva spent 5 years at GigaSpaces Technologies where he played a variety of executive roles. His latest position was General Manager Cloud Computing. In this role, Geva was responsible for all global go-to-market activities at GigaSpaces related to cloud computing, including strategy and positioning, product marketing and strategic alliances.

Prior to this role Geva was Chief Marketing Officer, EVP U.S. Operations, and EVP Business Development.

Prior to joining GigaSpaces, Geva was Chief Operating Officer at SeeRun, a developer of real-time business activity monitoring software. In 1999, Geva co-founded and became General Partner of Synergy Ventures, a New York-based venture capital fund focused on enterprise software start-ups. Prior to founding Synergy, Geva worked at Earthweb, an online publisher of content for the developer community, before, during and after its highly successful IPO in 1998.

Early in his career, Geva was a technology and business journalist.

Geva received a Bachelor's degree from Hebrew University in Jerusalem. He holds an MS from the Columbia Graduate School of Journalism and an MBA from Columbia Business School.