JAOO 2004 is coming up September 20 - 24, 2004!
JAOO was THE place to be in September!
750 developers, software engineers, speakers and other good people attended the JAOO conference, September 22 - 26, 2003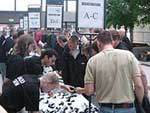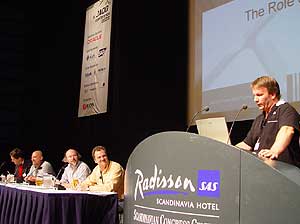 Photos from JAOO 2003.
More...
At JAOO 2003 we discussed and learned more about Java, Web services, J2EE, .NET, JDO, Agile Software Development, XP, Ruby, Patterns, MDA. This with people like: Kent Beck, Martin Fowler, Andy Hunt, Dave Thomas, Jim Coplien and Bjarne Stroustrup.
JAOO is a nice and intimate conference where you get to talk and mingle with your favorite gurus! Check out our site to see the way we deal with conferences - be convinced and meet us in Aarhus in September! Stay updated on JAOO: Subscribe for our monthly newsletter:
jaoo2003news@jaoo.dk
Register early and win a NOKIA 3510i
At JAOO 2003 it was possible to win a cool Nokia phone just by registering early! Every month we drew a winner from the so far registrered participants.
More information on the phone:
www.nokia.com/phones/3510i
The June winner:
Christian Bauer, BLUE MARS GmbH, DE
The July winner:
Hans Jensen, Jyske Bank, DK
The August Winner:
Kjell Karlsen, Norsk Tipping AS, NO
The September Winner:
Torben Wölm, Accenture, DK
Improve JAOO
Do you have something you'd like us to change about the conference? This could be both in relation to the technical program as well as how to organize the conference. We are interested in suggestions that you have not already mentioned in last years questionnaire. Perhaps there are also positive things you would like us to keep. Let us hear your opinion!
opinion@jaoo.dk