Mark Richards, Collaborative Consulting, LLC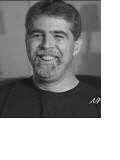 Mark Richards is a Director and Senior Architect at Collaborative Consulting, LLC, a Boston-based Business and Architecture Consulting Firm, where he is involved in the architecture, design, and implementation of SOA and Enterprise Architectures in J2EE and other technologies, primarily in the financial services industry. Mark has been involved in the software industry since 1984.
He is currently working on the 2nd edition of the "Java Message Service" book from O'Reilly (2009), and is the author of "Java Transaction Design Strategies" (2006), contributing author of "NFJS Anthology Volume 1" (2006) and "NFJS Anthology Volume 2" (2007), and contributing author of the upcoming "97 Things Every Software Architect Should Know" book from O'Reilly (2009).
Mark is a certified IBM IT Architect, an Open Group Master IT Architect, and has numerous other architect and developer certifications. He is a regular conference speaker at the No Fluff Just Stuff Symposium Series and speaks at other conferences and user groups around the country.
Prior to joining Collaborative Consulting Mark served as an Executive IT Architect at IBM, where he worked on designing and developing large-scale SOA and Enterprise Architecture in the Financial Markets industry.