Erik Doernenburg, ThoughtWorks Inc.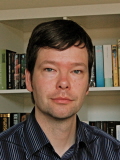 Erik Doernenburg is a Principal Consultant at ThoughtWorks Inc. where he is helping clients with the design and implementation of large-scale enterprise solutions.
Building on his experience with J2EE, Microsoft .NET and other environments, Erik is continually exploring patterns of enterprise software. He is an advocate of agile development and Open Source software, holds a degree in Informatics from the University of Dortmund and has studied Computer Science and Linguistics at the University College Dublin.