Charles Weir, Penrillian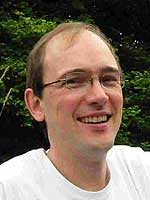 Charles Weir is managing director of Penrillian, a software house specialising in porting software to mobile devices based on Symbian OS. He has more than fifteen years' experience as a software engineer and consultant in OO techniques. He was Symbian technical lead for the Ericsson R380 communicator project, and has led many Penrillian projects, including porting the T-Mobile Traffic Scout navigation system to Symbian OS.
James Noble and Charles Weir are co-authors of the book Small Memory Software, and have presented several tutorials together on Small Memory Software, and on Learning by Playing. James and Charles are particularly noted for their original and fun approaches to writing and presenting software ideas and concepts.
Books