Sofia Svanteson, Ocean Observations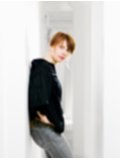 Sofia discovered her passion for mobile phone design while in Tokyo in 1999 with her then classmates from the Swedish Royal Institute of Technology. Fascinated by a constant interactivity between people and devices, in a city where the sky had the colour of television, she wrote her master thesis "Particular Challenges in Designing for Baby Faces". Since then she has stayed on the track of focusing on usable, useful and beautiful mobile products and services. Before founding Ocean Observations in 2001, she completed her 4 years as an Interaction Designer at the Internet consultancy Razorfish with getting even more educated and inspired at the offices in London, New York and Los Angeles.
Running Ocean for 7 years has not only let Sofia meet and work with prominent companies like Hutchison 3, Samsung, O2, Ericsson, Huawei and Skype, she has also got to travel the world and meet users from all around. Swell!