Matt Aimonetti, Rails Core Contributor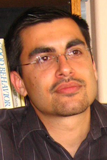 Matt is a born troublemaker/troubleshooter. Realizing early on that the IT world was offering its share of challenges to solve. He quickly decided to focus his energy on streamlining processes and developing custom solutions.
Originally from France, Matt's work has taken him all over the world. He is currently based out of San Diego, CA, where he is a consultant for Fortune 500 companies and various start-ups.
He is a Merb Core developer and Rails contributor and keeps track of his professional experiments and experiences on his blogs: http://merbist.com and http://railsontherun.com.