Amr Elssamadisy, Author "Agile Adoption Book"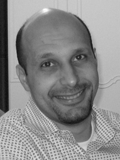 Amr Elssamadisy, a partner with Gemba Systems, helps both large and small teams adopt agile practices and adapt them to their unique environments.
Elssamadisy has helped build software systems in C++, J2EE, and .NET; and has led, participated, and guided teams in agile development projects utilizing both .NET and J2EE technologies.
Before starting Gemba Systems, Amr worked for several well-known leaders in the Agile community including Valtech and ThoughtWorks, where he participated in-and eventually led-the company's first Extreme Programming team.
Amr is also the author of:
Patterns of Agile Practice Adoption: The Technical Cluster
and
Agile Adoption Patterns: A Roadmap to Organizational Success
and an editor for the AgileQ at InfoQ, a contributor to the Agile Journal and a frequent presenter at software development conferences.