Sue McKinney, IBM Software Group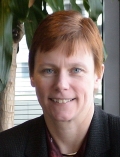 Currently responsible for development transformational activities with IBM's software development group, her major emphasis is driving adoption of Agile and Lean principles into the mainstream of software development.
Prior to this assignment, Sue was a Vice President of Development for the Lotus Division where she led world wide development for Lotus Domino, IBM Sametime and Websphere Portal.
In addition to driving transformational activities within IBM, Sue works with large clients to share IBM's experience and help them scope opportunities for their own transformational activities.