Willem van den Ende, Independent Consultant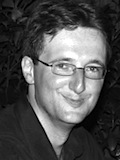 Willem van den Ende is a Dutch eXtreme Programming pioneer. Since 1999 he guides organisations in the introduction of agile software development as an all-hands person: coach, developer, and facilitator. Always active in the local and international community, he currently serves as board member of the Agile Alliance, host of systemsthinking.net and the European Agile Open conferences. Willem is an appreciated workshop facilitator at practitioners' conferences like XP(Day), Software Practice Advancement, and Agile200*.
Willem's sharp vision, broad knowledge, and twenty years of experience as programmer and coach enable him to adopt a very flexible and improvising attitude during workshops. He has the ability to let people see things differently.