Lasse Koskela, Reaktor Innovations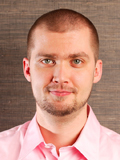 Lasse works as a coach, trainer and consultant, spending his days helping clients and colleagues at Reaktor Innovations create successful software products.
He has trenched in a variety of software projects ranging from enterprise applications to middleware products developed for an equally wide range of domains. In the recent years, Lasse has spent an increasing amount of time giving training courses and mentoring teams on-site, helping them improve their performance and establish a culture of continuous learning.
When not working with clients, Lasse hacks on open source projects, moderates discussions at JavaRanch, or writes about software development--most recently a book on Test Driven Development. He is one of the pioneers of the Finnish agile community and speaks frequently at international conferences. You can contact him at lasse@ri.fi