Jonas Jacobi, Kaazing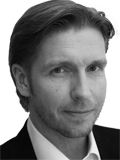 As co-founder and chief executive officer of Kaazing Corporation, Jonas Jacobi sets the company's business strategy and oversees all aspects of Kaazing's operations and mission to become the world-wide leader in real-time software.
Before co-founding Kaazing Jonas Jacobi worked as VP of Product Management responsible for the product management and marketing strategy for Brane Corporation, a startup company in Silicon Valley. A native of Sweden, Mr. Jacobi has worked in the software industry for more than sixteen years. Prior to his appointment as vice president for Brane, he worked 8 years for Oracle as a Java EE and open source Evangelist, and product manager responsible for the product management of JavaServer Faces, Oracle ADF Faces, and Oracle ADF Faces Rich Client in the Oracle JDeveloper team.
Mr. Jacobi is a frequent speaker at international conferences and has written numerous articles for leading IT magazines such as Java Developer's Journal, JavaPro, AjaxWorld, and Oracle Magazine. Jonas is co-author of the recently published book Pro JSF and Ajax: Building Rich Internet Components, (Apress).