Jim Webber, SOA Practice Lead, ThoughtWorks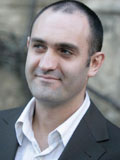 Dr. Jim Webber is the Global Head of Architecture for ThoughtWorks where he works with clients on delivering dependable service-oriented systems. Jim was formerly a senior researcher with the UK E-Science programme where he developed strategies for aligning Grid computing with Web Services practices and architectural patterns for dependable Service-Oriented computing. Jim has extensive Web Services architecture and development experience as an architect with Arjuna Technologies and was the lead developer with Hewlett-Packard on the industry's first Web Services Transaction solution.
Jim is an active speaker in the Web Services space and is co-author of the book "Developing Enterprise Web Services - An Architect's Guide" in addition to being a contributing author to other books and articles.
Jim holds a B.Sc. in Computing Science and Ph.D. in Parallel Computing both from the University of Newcastle upon Tyne. His blog is located at http://jim.webber.name.