Giles Colborne, cxpartners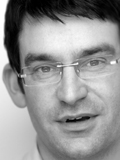 Giles has worked in human-computer interaction for nearly twenty years at Euro RSCG Circle, British Aerospace and Institute of Physics Publishing. In 2004 he set up cxpartners, a user-centred design consultancy which develops user interfaces for clients such as Nokia, eBay and Microsoft.
Giles was President of the UK Usability Professionals Association from 2002-2007. He writes on usability for Revolution magazine and is a frequent speaker on usability at conferences around the world. In 2006 he edited PAS 78, the British Standards Institute?s accessibility guidance for Web site owners and is currently working on a new accessibility and usability standard.