Evan Campbell, Rally Software Development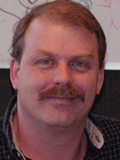 Evan Campbell has more than 15 years experience in software engineering, product development, technology leadership and consulting. Areas of expertise include Agile and Scrum transformations from the team level to the boardroom level, large scale enterprise systems planning and architecture, mobile computing systems, program and portfolio management and IT Governance. Evan currently leads the Professional Services function at Agile Lifecycle Management company Rally Software Development www.rallydev.com and was the CTO and VP of Professional Services at SolutionsIQ (a 450 person software development services and Agile consulting organization).
Prior to SolutionsIQ, Evan was the CTO of Versatile Mobile Systems (VMS), a publicly traded software company with internationally distributed software development teams. There he was responsible for all product development and professional services and was a key contributor in strategic planning and corporate leadership, and key to arranging several mergers and acquisitions. He came to VMS via its acquisition of Mobiquity, an e-commerce startup where he was a co-founder and CTO.
Evan is a Certified Scrum Master (CSM), a Certified Information Systems Auditor (CISA), earned an MBA from Rollins College and an MA in International Affairs, Economics and Finance from George Washington University. Prior to his career in technology he served in the U.S. Army as an Airborne Ranger and Green Beret.