Erik Jaspers, Planon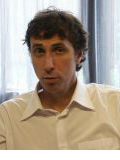 Current position: CTO
Born: May 24, 1958
Working for Planon since 1999. Responsible for defining the Product Development Agenda.
After completing a Bachelors degree in Mechanical Engineering in 1981, Erik Jaspers moved to software development and IT management. After spending a number of years in IT management, he moved over to a product development management position with Planon.
He is specifically focused on process and product innovation and was responsible for the introduction of Scrum within Planon in 2003. Nowadays Erik is involved with developing Agile Product Management practices, based on Scrum.
Previous engagements:
1996 - 1999: Information & IT Operations Manager for Philips Machine factories
1993 ? 1996: Project Manager & Service Leader for Origin (nowadays ATOS)
1985 ? 1992: Software developer / project manager for Philips Semiconductors