Ian Wilkes, Linden Lab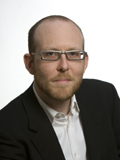 As Vice President of Systems Engineering, Ian Wilkes is responsible for all aspects of IT infrastructure at Linden Lab. An early member of the company, for the past six years Wilkes has led the development of the server technology behind the award-winning, 3-D virtual world of Second Life.
Wilkes and his IT staff are dedicated to providing a stable foundation for the continued growth of Second Life, and developing strategies to address key Second Life Grid scalability issues. Prior to joining Linden Lab, Wilkes served as Technical Lead at Zengine, Inc, where he managed the core application, database, and network architecture.
Previous experience includes development positions at the US Department of Energy's experimental super-computing division, and at game developer Hot-B USA. Wilkes holds a Bachelor of Science in Electrical Engineering and Computer Science from the University of California, Berkeley.