Richard Gabriel, Distinguished Engineer, IBM Research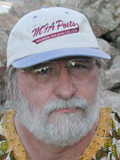 Richard P. Gabriel received a PhD in Computer Science from Stanford University in 1981, and an MFA in Poetry from Warren Wilson College in 1998. He has been a researcher at Stanford University, company president and Chief Technical Officer at Lucid, Inc., vice president of Development at ParcPlace-Digitalk, a management consultant for several startups, a Distinguished Engineer at Sun Microsystems, and Consulting Professor of Computer Science at Stanford University.
He is a Distinguished Engineer at IBM Research, looking into the architecture, design, and implementation of extraordinarily large, self-sustaining systems as well as development techniques for building them. Until recently he was President of the Hillside Group, a nonprofit that nurtures the software patterns community by holding conferences, publishing books, and awarding scholarships. He is on Hillside's Board of Directors.
He helped design and implement a variety of dialects of Lisp. He is author of four books ("Performance and Evaluation of Lisp Systems," MIT Press; "Patterns of Software: Tales from the Software Community," Oxford University Press; "Writers' Workshops and the Work of Making Things," Addison-Wesley Press; and "Innovation Happens Elsewhere: Open Source as Business Strategy," Morgan Kaufmann), and a poetry chapbook ("Drive On," Hollyridge Press), with two books of poetry in preparation: "Leaf of my Puzzled Desire" and "Drive On." He has published more than 100 scientific, technical, and semi-popular papers, articles, and essays on computing. He has won several awards, including the AAAI/ACM Allen Newell Award.
He is the lead guitarist in a rock 'n' roll band and a poet.