Patrick Linskey, Java Persistence Expert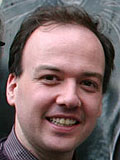 Patrick Linskey has been involved in object/relational mapping and databases for the last decade. As the founder and CTO of SolarMetric, Patrick drove the technical direction of the company and oversaw the development of Kodo, through its acquisition by BEA. At BEA, Patrick led the EJB team in designing and implementing the WebLogic Server EJB 3.0 solution, and represented BEA on the JDO and EJB3 expert groups. He is a contributor to the Apache OpenJPA project.
Since leaving Oracle last summer, Patrick has worked on a number of projects, ranging from traditional three-tier web and mobile applications to C# peer - to - peer client applications with custom-designed distributed storage solutions.
Books