Ryan Slobojan, Codesta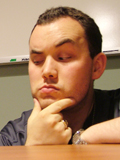 Ryan Slobojan is a managing director at RoundTrip Networks, which focuses on the full lifecycle of online applications including both the application itself and the infrastructure that it runs on.
He has worked with a wide range of technologies, but considers Java to be his most in-depth area of knowledge, and has become impressed with the impact that Agile and Lean methodologies have upon the software development process.
He enjoys the dual challenges of working with new customers and new technologies, and is constantly scouring the technology landscape for new and interesting technologies which are being used.