Alexander R. Krapf, Codemesh, Inc.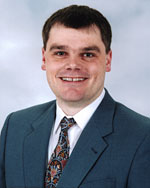 Mr. Krapf has over 15 years experience in software engineering, product development, and project management in the United States and Europe. He has been extensively involved in a variety of complex product development efforts using his in-depth understanding of .NET, C++, and Java. Mr. Krapf's successes have ranged from contributing SEC compliance components in the financial sector to managing the development of e-commerce servers for Hitachi Computer Products. In addition to founding and managing Codemesh, Mr. Krapf has worked for IBM, Thomson Financial Services, Hitachi, Veeder-Root, and Document Directions Inc., where he has been involved in product rollout, customer training, and customer relations for a diverse set of products and services.
Recognizing the need for easy to use, quality software integration products, Mr. Krapf co-founded Codemesh to satisfy a growing market need and his own entrepreneurial instincts. Mr. Krapf's history with product successes, as well as failures, has taught him what it takes to build a company with strong technology, firm business principles, and excellent customer support: Codemesh.
Mr. Krapf received a Bachelor of Science degree in Electrical Engineering from the University of Stuttgart, Germany.