Steve Jones, CapGemini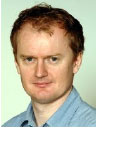 Steve Jones is currently a CTO at Capgemini responsible for determining how SOA impacts both their, and their clients', outsourcing and application development businesses.
A member of several standards bodies including the OASIS SOA Reference Model group, Java Business Integration and the original JAX-RPC group and is Capgemini's sponsor for their membership of both the Java Community Process and OASIS.
He is a regular presenter at conferences on the business and technical challenges of SOA implementations and has acted as an advisor to several vendor product groups.