Sailesh Panchal, Travelex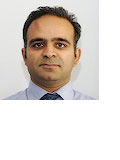 Sailesh Panchal, is a Global Architect at Travelex, where he leads the Enterprise Architecture team. His responsibilities have included leading the introduction of J2EE, Spring and ESB, and building Agile development teams ready for the challenges of regulatory change in the Financial Services.
Sailesh has 20 years of experience in the industry including designing and building safety critical drilling software for the oil industry, high volume/performance messaging processing systems for telco switching systems, and distributed architecture and teams at JP Morgan Chase.
In his spare minutes are spent on his twin boys, photography and learning the piano.