Dan Pritchett, eBay, Inc.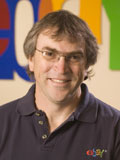 Dan Pritchett is a Technical Fellow at eBay where he has been a member of the architecture team for the past four years. In this role, Dan interfaces with the strategy, business, product and technology teams across eBay Marketplaces, PayPal and Skype. Dan has been at eBay since 2001 and has made significant contributions to various business critical initiatives at eBay, including the migration of attributes and catalogs to the V3 marketplace platform, the implementation of eBay's Global Billing System, and the introduction of reliable asynchronous processing to the eBay platform. With over 20 years of experience at technology companies such as Sun Microsystems, Hewlett Packard and Silicon Graphics, Dan has an extensive depth of technical experience, ranging from network-level protocols and operating systems to systems design and software patterns.
Dan has a B.S. in Computer Science from the University of Missouri, Rolla. He lives in San Jose, Ca. with his wife and two daughters. He likes to spend his free time coaching at Willow Glen Little League and tinkering with cantankerous old British cars.