Boris Gloger, SPRINT IT, Germany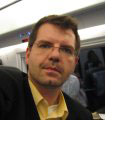 Boris Gloger's international experience in software development and delivery projects is based on his work for EDS, Broad-Vision, ONE, Web.de, in Denmark, Spain, Austria and Germany. He has implemented traditional software development processes like CMM and Risk Management and is now changing organizations using Scrum and Project Retrospectives. He authors articles on topics affecting project teams, team leadership and organizational change; "his current book project is: "Introduction to Scrum". (in German). Will be published in Spring 2007). In 2004 he organized the first Scrum Gathering-Europe 2004 at Vienna and 2006 he organized the Retrospective facilitator Gathering in Baden-Baden, Germany. In 2005, I found SPRiNT iT, an agile software development and consuluting company in Ettlingen, Germany.
Boris is a Certified Scrum Master Trainer and NLP Practitioner and holds a Magister in Philosophy and Sociology from TU Darmstadt, Germany. He lives in Roeschwoog, France, a small village in Alsace, and in Vienna, Austria. Reading, running marathon and and salsa dancing are among his passions. His next running goal is the 2 Ocean Run in Capetown South Africa in 2007.