Markus Hebach, Borland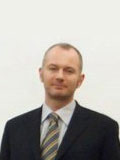 Markus Hebach is the Product Line Manager for Together Products and modeling technologies for EMEA at Borland. He joined Borland 2002 with the TogetherSoft acquisition, and has a history of 12 years working with, or close to Borland in different areas. Markus studied computer engineering in Frankfurt (Germany), worked as a programmer with Pascal and 4GL-Languages, was an independent trainer for Delphi and co-founded a publishing company for Developer-Magazines.
His position at Borland before taking his current role was senior technical consultant for UML and Together products with a total of 16 years experience in the software business. Markus is an accomplished speaker and has presented at many conferences, seminars and training courses throughout Scandinavia and Europe.