Simon Phipps, Sun Microsystems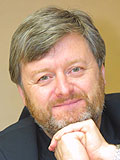 Simon Phipps is the Chief Technology Evangelist at Sun Microsystems, responsible for expounding and explaining the 'big picture' of connected computing solutions. In particular, his industry experience gives him unique insight into how open technologies like Unix, Java, XML and TCP/IP build together with newer ideas like wireless and internet services to form the foundation for connected computing in the massively connected society of the 21st century. He has explained these ideas extensively at international events such as JavaOne, Seybold, Software Development, O'Reilly conferences, XML World and many more.
A computer industry insider of 20+ years standing, Simon has worked in such hands-on roles as field engineer, programmer and systems analyst as well as being involved at a strategic level in some of the world's leading computer companies. Fascinated by the idea of 'action at a distance', he worked with OSI standards in the eighties, on the first commercial collaborative conferencing software in the nineties, and helped introduce both Java and XML at IBM. He joined Sun in mid-2000 and is now responsible for articulating their open source strategy, and for telling the story behind the product stories and standards initiatives.
He holds a degree in electronic engineering and is a Chartered Engineer and Member of the British Computer Society.
Simon lives in the UK with his wife and three children but is based in Silicon Valley in the US. With membership of airline frequent flyer clubs thus taken care of, he is free to indulge in his favourite pastimes of reading, writing poetry, collecting music, taking photographs and playing with cool toys.