Nati Shalom, GigaSpaces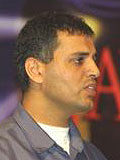 Nati Shalom, CTO and Founder GigaSpaces Technologies Nati is responsible for GigaSpaces' technology roadmap and the direction of GigaSpaces' products as relates to standards adaptation, architecture, and product design.
Nati is also the Head of the Israeli Grid consortium, and evangelizing grid technology. He has won a gratitude award for his contribution and dedication. Nati has led the development of the first Reverse BID exchange in the Israeli Yellow Pages. He worked in the past with IONA, and was responsible for the penetration of their products and technology, to most of the leading ISV?s in Israel. Nati is an experienced software engineer, with a strong background in middleware and specifically CORBA and EJB. He has been working for the past ten years with some of the leading Israeli software companies, such as ECI, Comverse, BMC, Elisra, Rafael, and Amdocs.
During his past work as Technical Manager and Senior Consultant, Nati specialized in Internet distributed applications and was involved in the design of an e-commerce applications for Citibank, Inc. Prior to that, Nati was a Software Engineer at Geotech, where he developed communication networks for cellular telephone systems, and Elisra, where he developed real time algorithms for warning systems.
Nati holds a B.Sc. in Electrical Engineering from Coventry University, U.K