Søren Skyum, EOS Trifork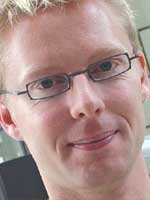 Serving as a developer and tutor at EOS Trifork for the past 2 years, Søren Skyum has been working on the Trifork EAS Application Server product and as a J2EE consultant for the Health Care industry. Recently Søren helped develop a number of web-applications for the Danish Medicines Agency.
Before joining Trifork, Søren worked for the danish telecom company TDC developing J2EE web-applications for customer selfservice. Søren holds a B.S. and an M.S. in Computer Science from Aarhus University in Denmark.