Alexander Heusingfeld, Senior Consultant innoQ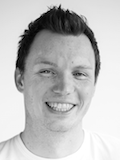 Alexander Heusingfeld is a senior consultant for software architecture and engineering at innoQ in Germany. As a consultant, software architect and developer he supports customers with his long-term knowings of Java and JVM-based systems. Most often he is involved in the design, evaluation and implementation of architectures for enterprise application integration (EAI), modern web-applications and microservices.
He loves to contribute to OpenSource projects, speaks at IT conferences and Java User Groups and occasionally blogs at http://goldstift.de/.
Twitter: @goldstift