Stefan Richter, Founder and CTO of freiheit.com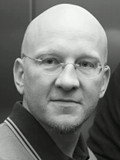 Stefan is the founder and CTO of freiheit.com technologies gmbh, a very successful german software company. Since 1999 he and his now 70 programmers are developing large internet applications - mostly in Java - for the Who-is-Who internet companies in europe. He studied computer science and systems analysis because he fell in love with computer programming in 1983. His favorite programming languages are Common Lisp, Clojure ( a modern lisp on the JVM) and JavaScript.
Stefan thinks, that the time has come for functional programming. His company deployed several large-scale applications written in Common Lisp and Clojure in the last couple of years and he wants to share his experiences with the GOTO community.
Besides being a programmer he loves books, photography and CrossFit (
http://www.crossfit.com
). As a board member of pre-seed investor HackFwd (
http://www.hackfwd.com
) he tries to help startups to become successful. As an activist he supports the Free Software movement and the Free Software Foundation Europe (
http://www.fsfe.org
) and the fight against software-patents in europe. You can follow him on Twitter if you like (
http://www.twitter.com/smartrevolution
).